Hi guys!!! It's all about our special wedding day in today's post, and one that I've been itching to write for so long because we have so much love for our wedding venue (but I was waiting on the official photos)! If you follow my on social as well, you'd have gotten a sneak peek of our wedding day at the breathtaking Rowena's Inn on the River, or otherwise also known as Sandpiper Resort in Harrison Mills. From the moment we laid eyes on this enchanting venue, we knew it was the perfect place to say "I do." 
Some of you may be in the process of wedding planning right now, or may be soon *wink, and I want to share all about our experience planning our own wedding with the team at Rowena's Inn. It was the most beautiful, seamless experience, and I have nothing but the best things to say. 
All about our wedding day at Rowena's Inn on the River: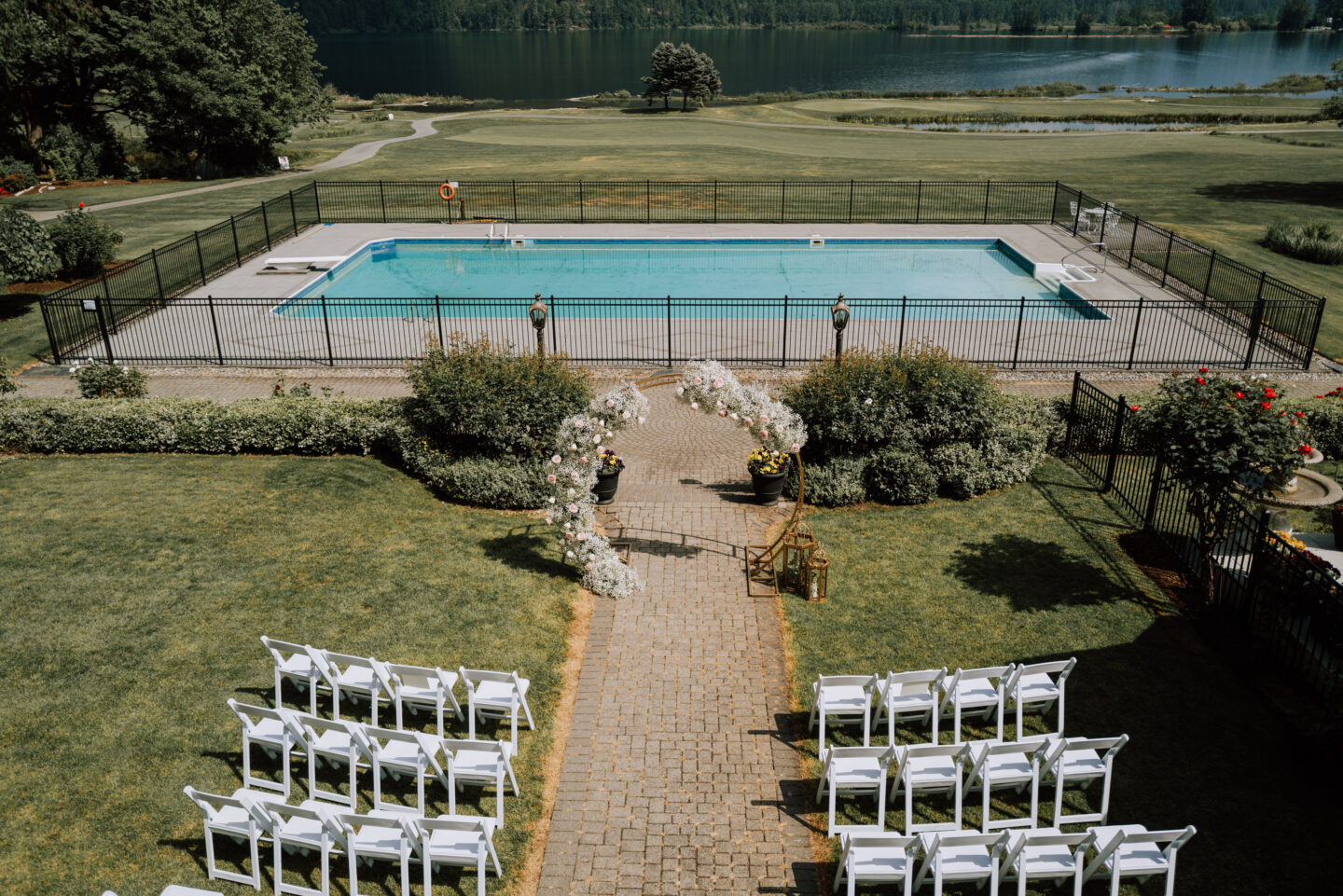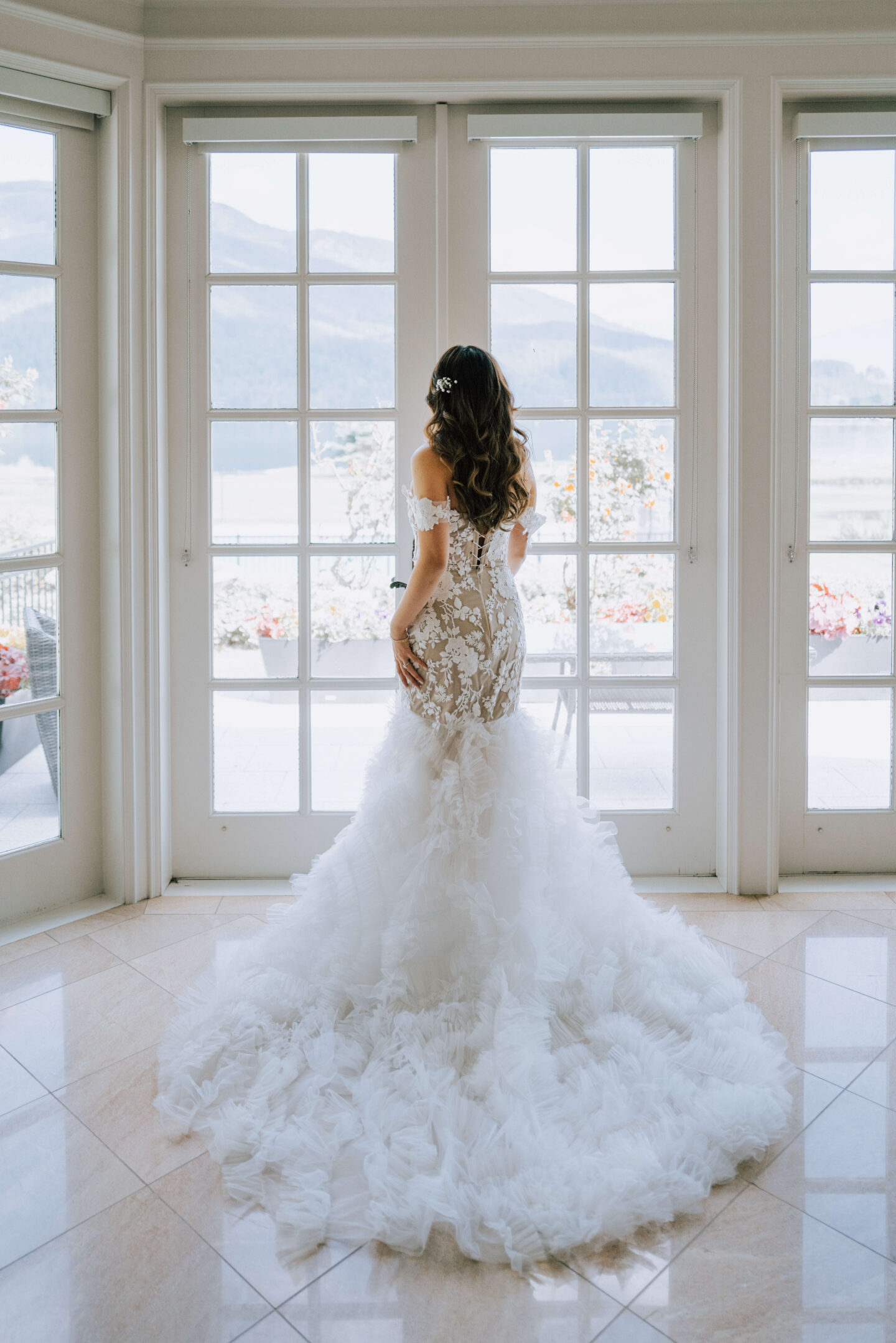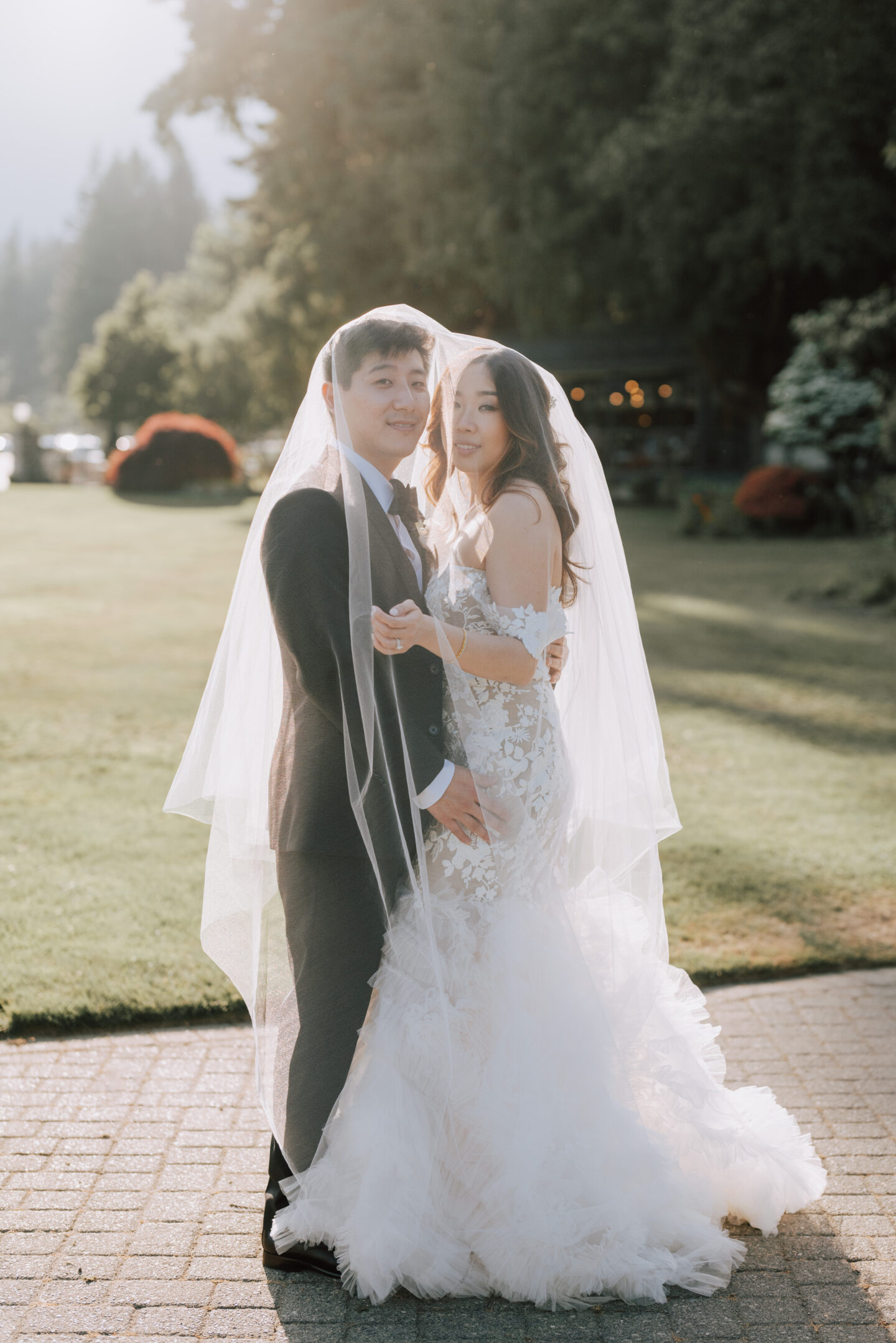 ---
Our Initial Impression of the Venue: Love at First Sight!
---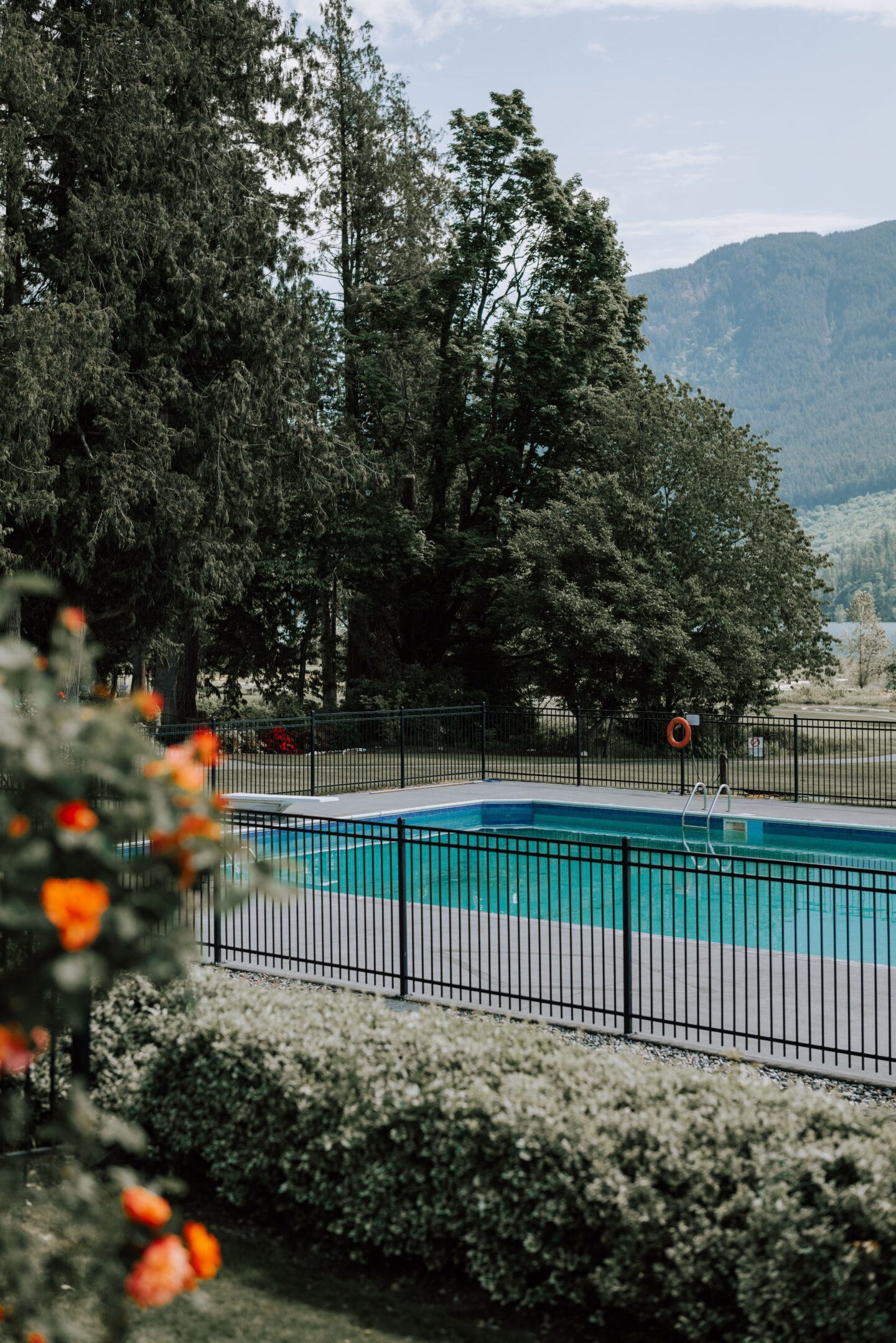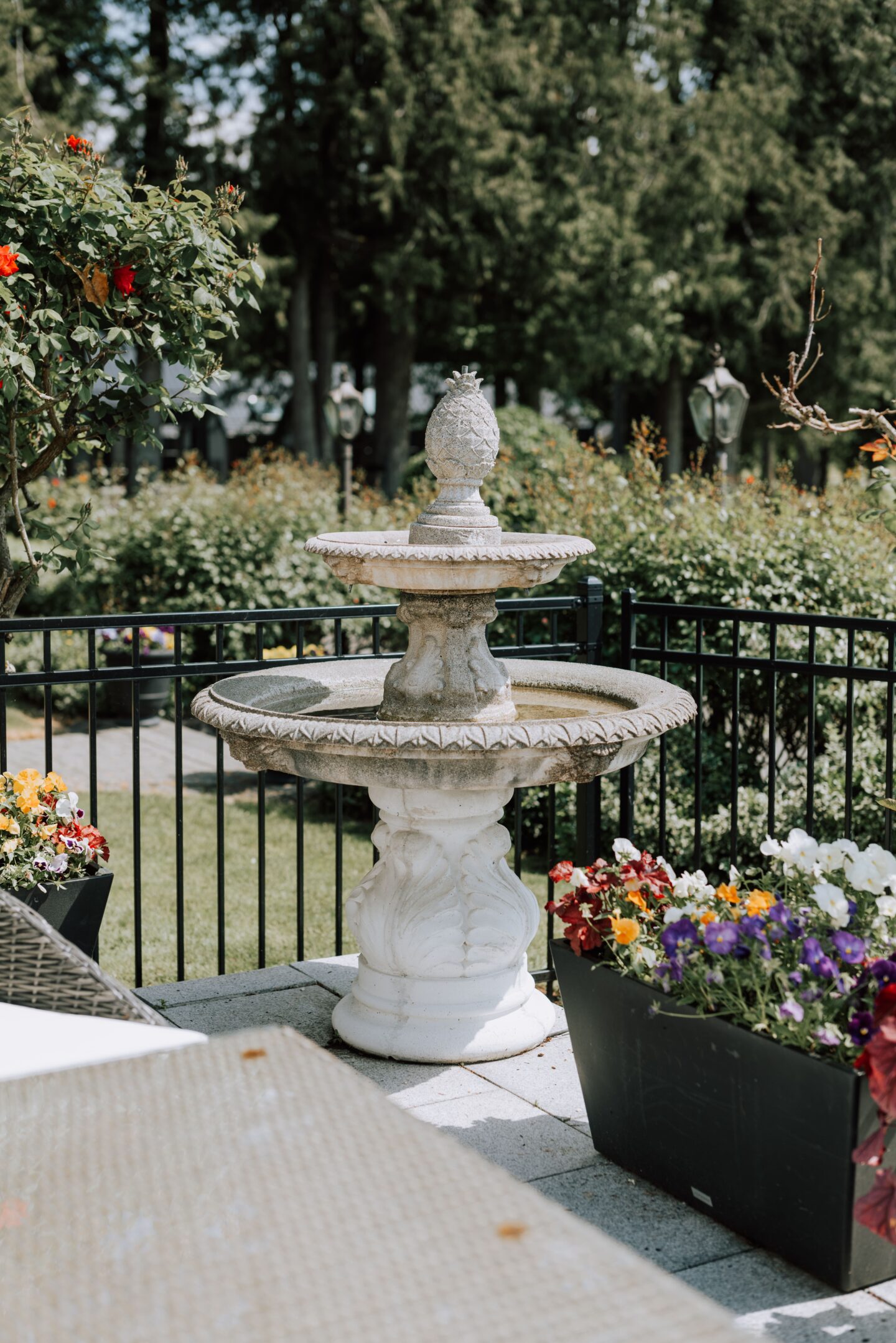 Picture this: a hidden gem nestled on the banks of the Fraser River, surrounded by lush forests and awe-inspiring mountain vistas. We first visited Rowena's Inn on a media trip that I was invited to years back—this was when we were dating! The stunning resort is located about 1.5 hours from downtown Vancouver. 
I remember just driving up to the entrance of the resort, and just JAW DROPPED. It's literally like a beautiful painting, something that Bob Ross would paint ya know? 
During our stay, we ventured around and I kind of knew that if we were to ever get engaged, this would be the venue. We also stayed in their Luxury Nature Cabins and it was absolutely stunning. Perfect for our personalities because Elbert loves the outdoors, and I love well, glamping. But this isn't even glamping, it's literally the most stunning cabin (super comfortable and with every amenity).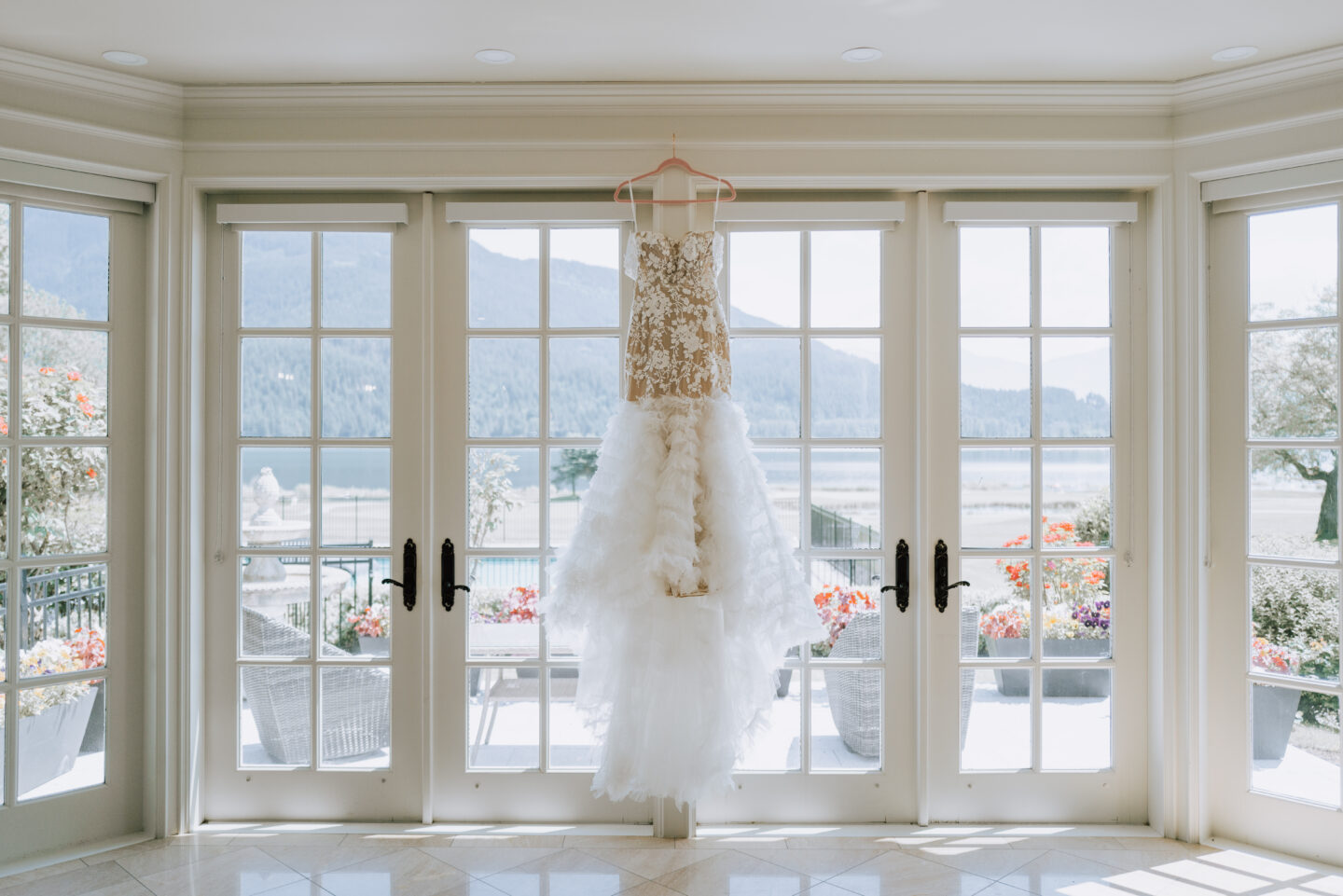 ---
Gorgeous Cabins: Where Rustic Meets Modern Comfort
---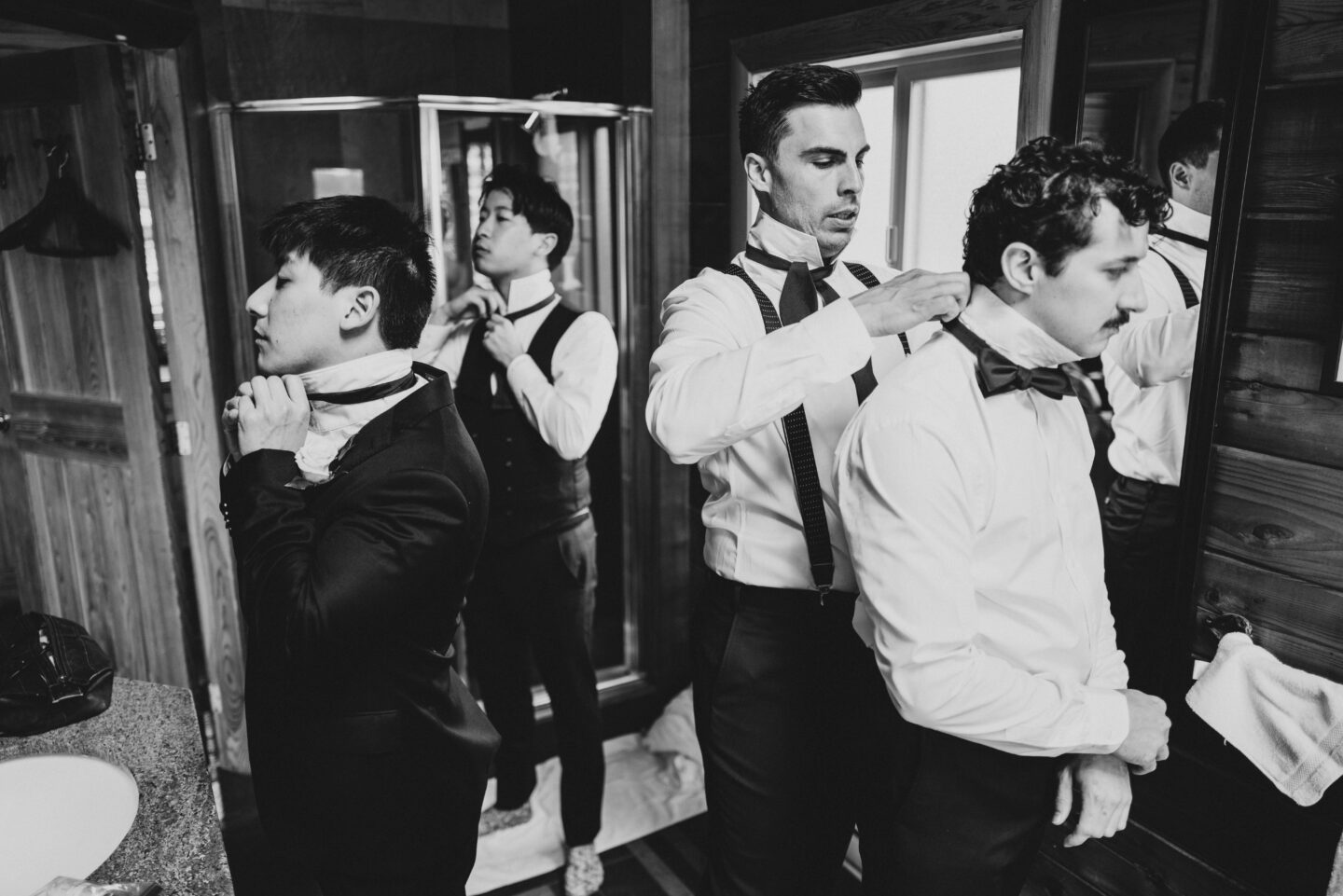 We've had the pleasure of staying at Rowena's Inn multiple times before, and during our wedding planning process. It's also really nice that we can drive out to our wedding venue whenever we wanted as it isn't too far from Vancouver. 
There's a variety of accommodations at the resort: Colonial Inn Rooms (located inside the historic Rowena's Inn, the Classic Rustic Cabins, the Luxury Cabins and the newest Woodland Cabins. Side note, we stayed at the Woodland Cabins (it's on my IG), and OMG instant love at first sight. 
Combining rustic charm with modern amenities, these cozy cabins provided the perfect retreat for us and our wedding guests. There's such a beautiful sense of peace waking up to the sound of the river and chirping birds, and that made our stay even more magical. If you love eagle watching, every Fall, people visit Harrison Mills for the largest winter bald eagle gathering, and you'll get the best view here!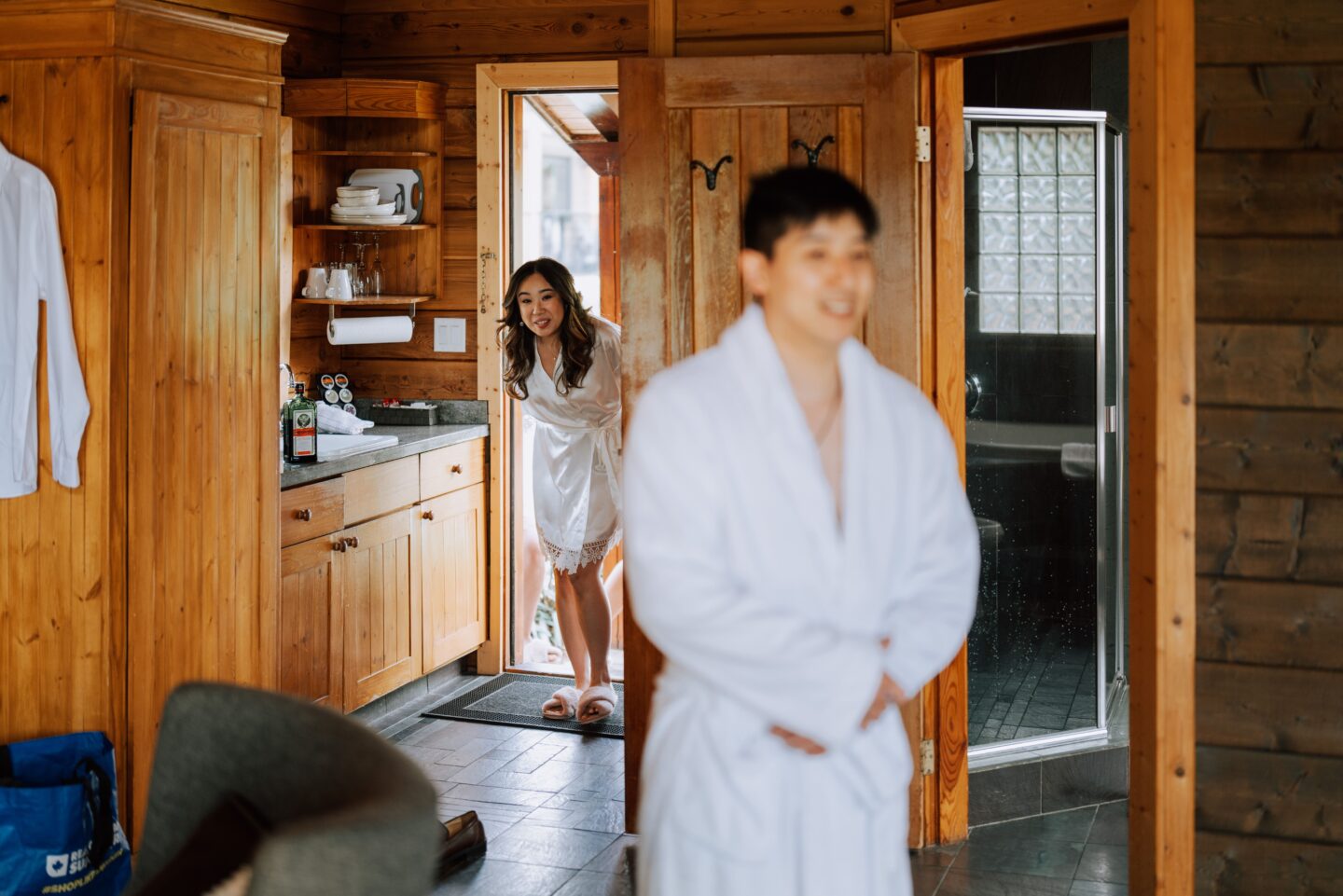 We knew that we wanted a relaxing, vacation vibe to our wedding, where guests had the option of staying at the venue if they wanted. I can't really explain how wonderful it was to wake up the next day, wander out for a walk and say hi to all our guests who were either having breakfast, or just chilling at their cabin patios.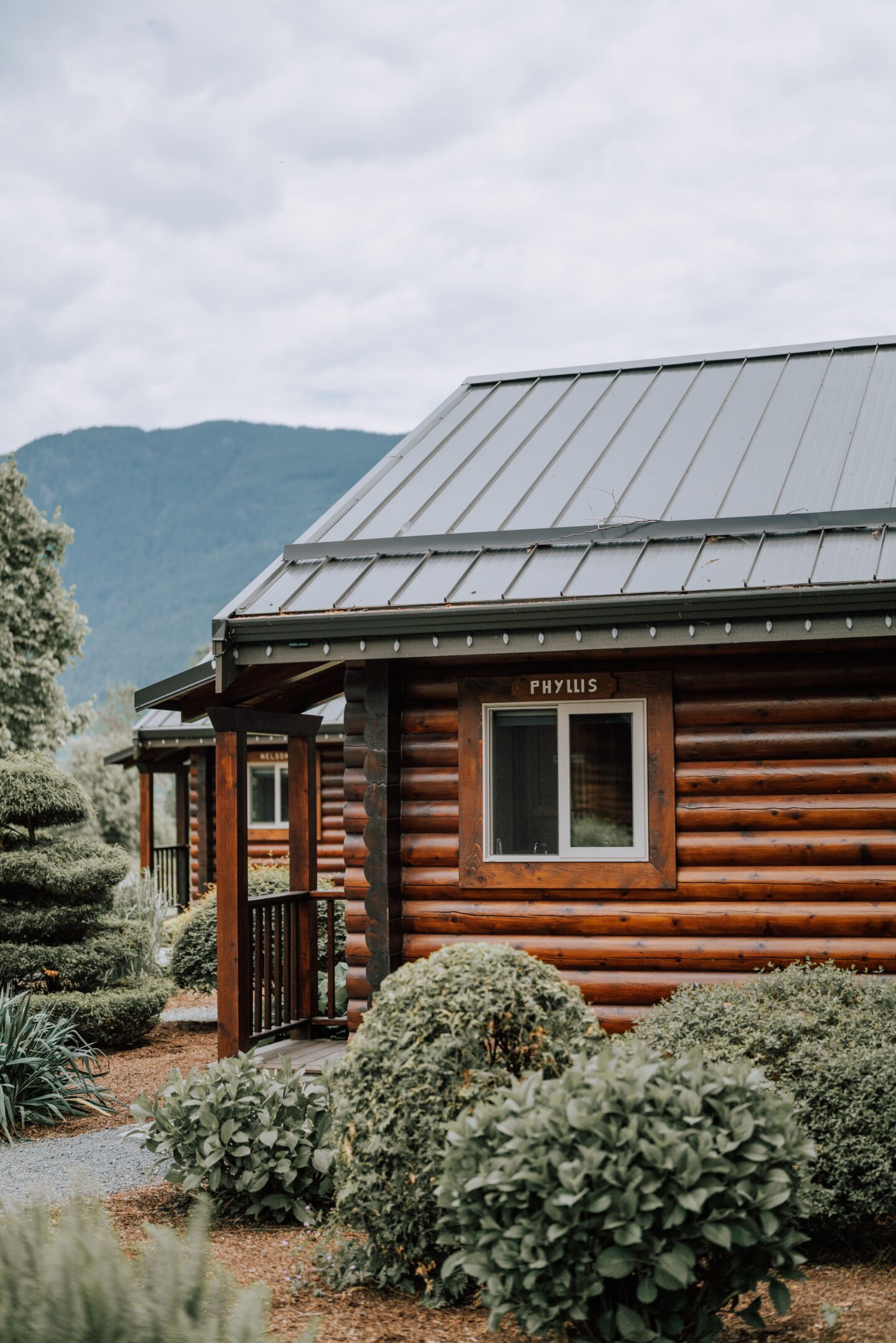 ---
Comprehensive Wedding Package Options: Tailored to Perfection
---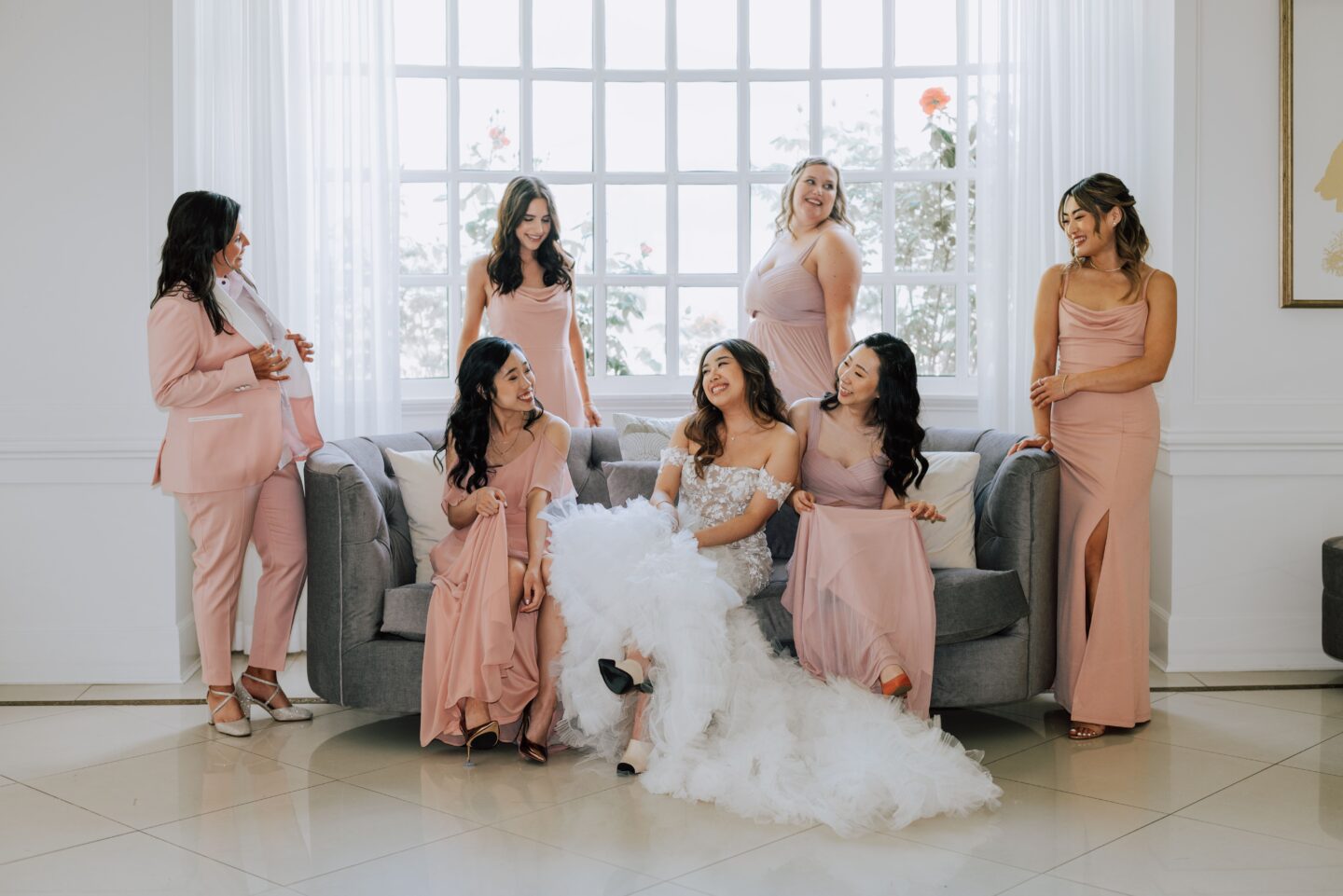 OKAY so this part is important, especially if you're shopping for your perfect wedding venue and want to ensure you have weighed your pros and cons!
In total honesty, the main deterrence we had for this venue was the distance for our guests. This as you'll later read, pales in comparison to all the other pros- hence why we went with Rowena's Inn. 
I did a whole lot of research on different venues, and we visited a couple spots in Vancouver, on the island, and even debated a destination wedding. Almost all of the wedding packages were SO expensive, for so little. We literally were told that white linens were the highlight of the package, which is mind-blowing considering how much money weddings cost already.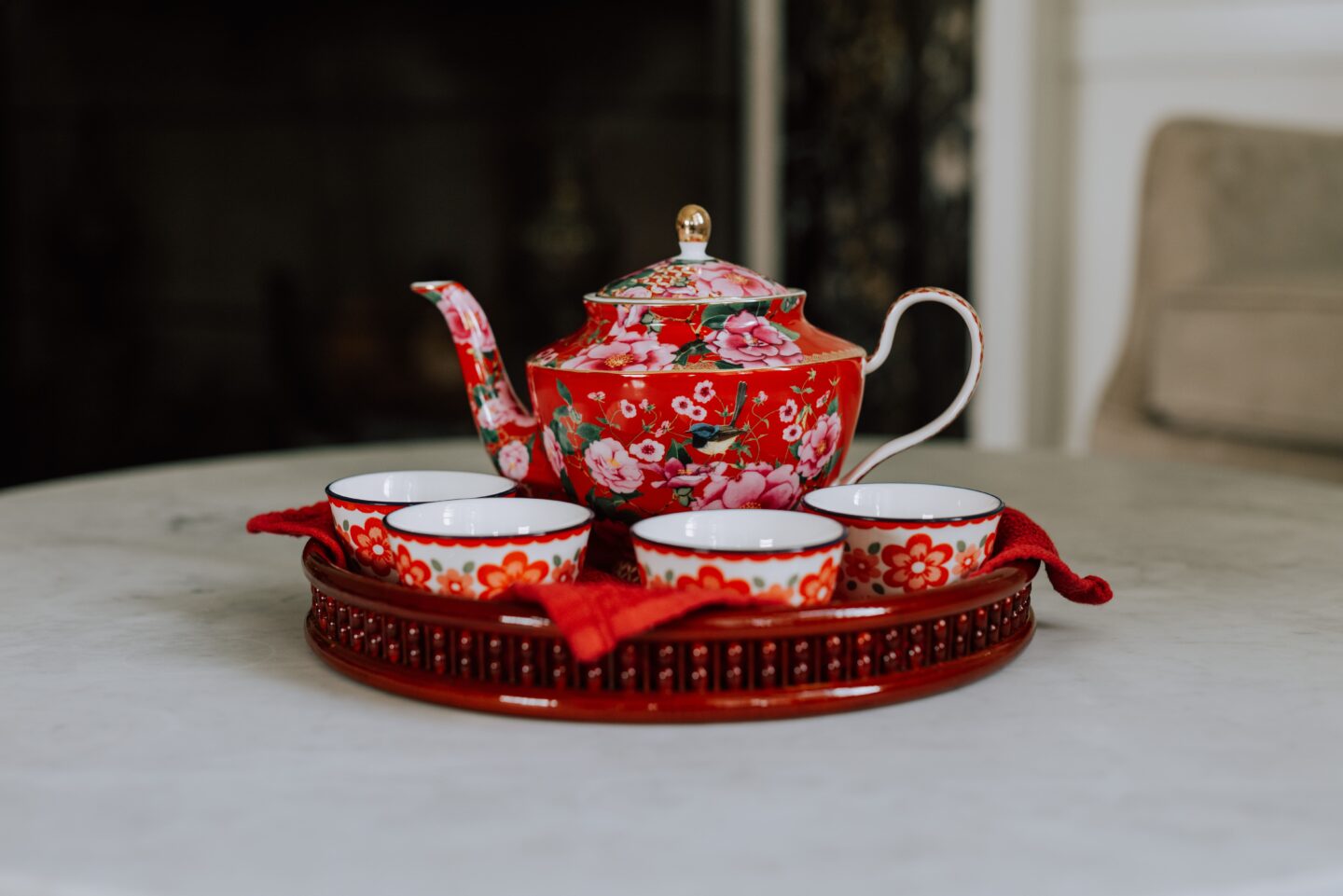 Rowena's Inn was not only one of the most beautiful venues, but their comprehensive wedding packages offered a plethora of options, from intimate elopements to bigger celebrations. 
You can download their updated wedding package options on their website, and they break it down really nicely for each season, and based on how large you want your wedding to be. 
We really liked that it was so clearly broken down so that it was easy for us to see what exactly is included with the price points.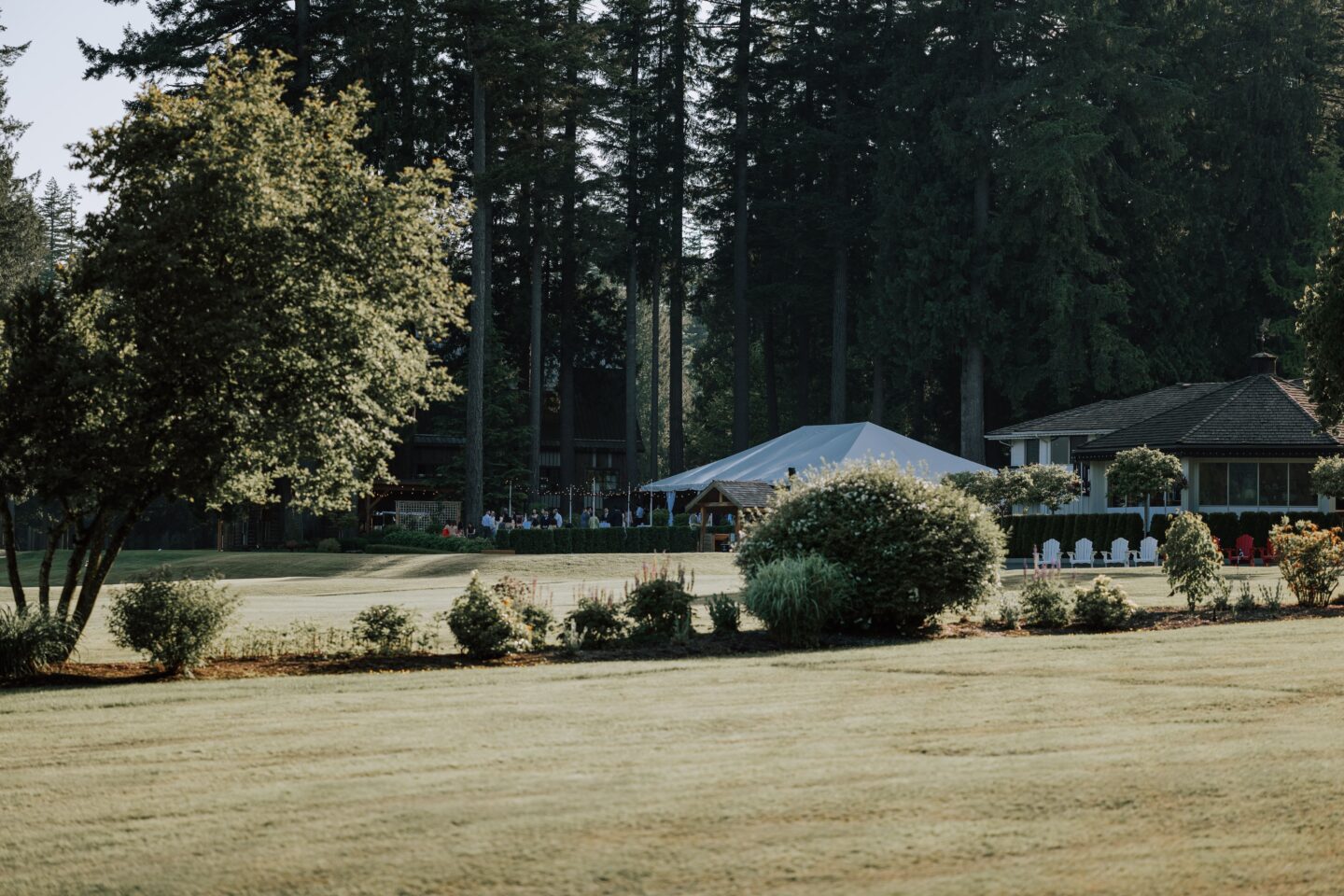 For weddings at Rowena's Inn on the River, the package includes: 
Venue (That we had till 12 am, and included tent, chairs and tables)

Food (Plated or Buffet options)

One night stay at the Rustic Classic Cabin (The Phyllis Cabin)

1 hour ceremony rehearsal

Set up and take down

Day-of coordinator

(THIS IS ALSO HUGE)
As our wedding was larger than 40 people, we also had base decor from Valley Weddings, our wedding cake by Reddy Made Cakes, and have our tent with base decor (lights and chandelier) included! 
Oh, and what really sold me on it was the Bridal Suite. 
The bridal suite was OMG, it was spacious, stunning, had a bed and bathroom, so much open space and natural light, and these stunning french doors.
It was for me the biggest selling points because I really wanted the morning-of to be relaxing, and in an environment that was bright and happy for me and the girls!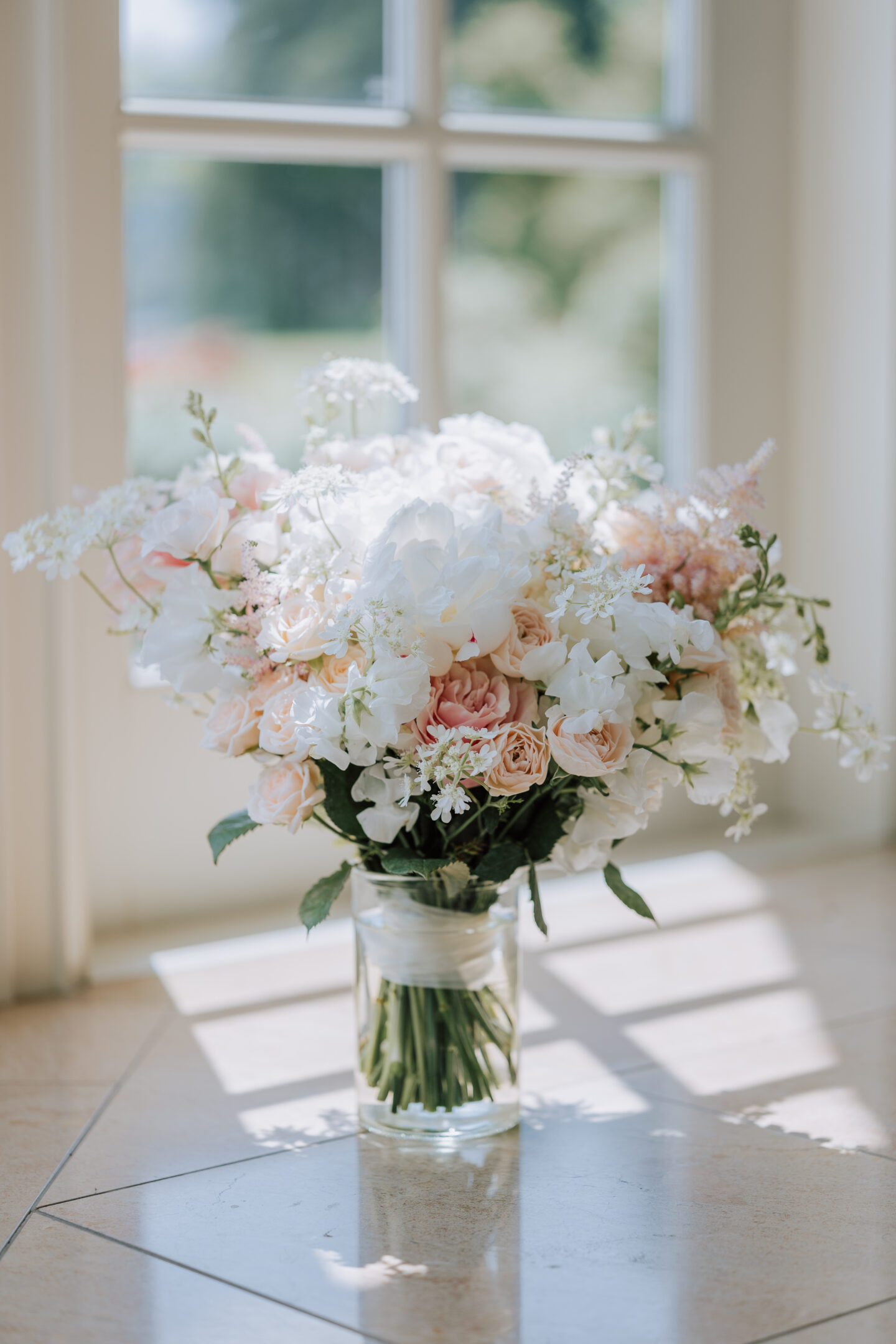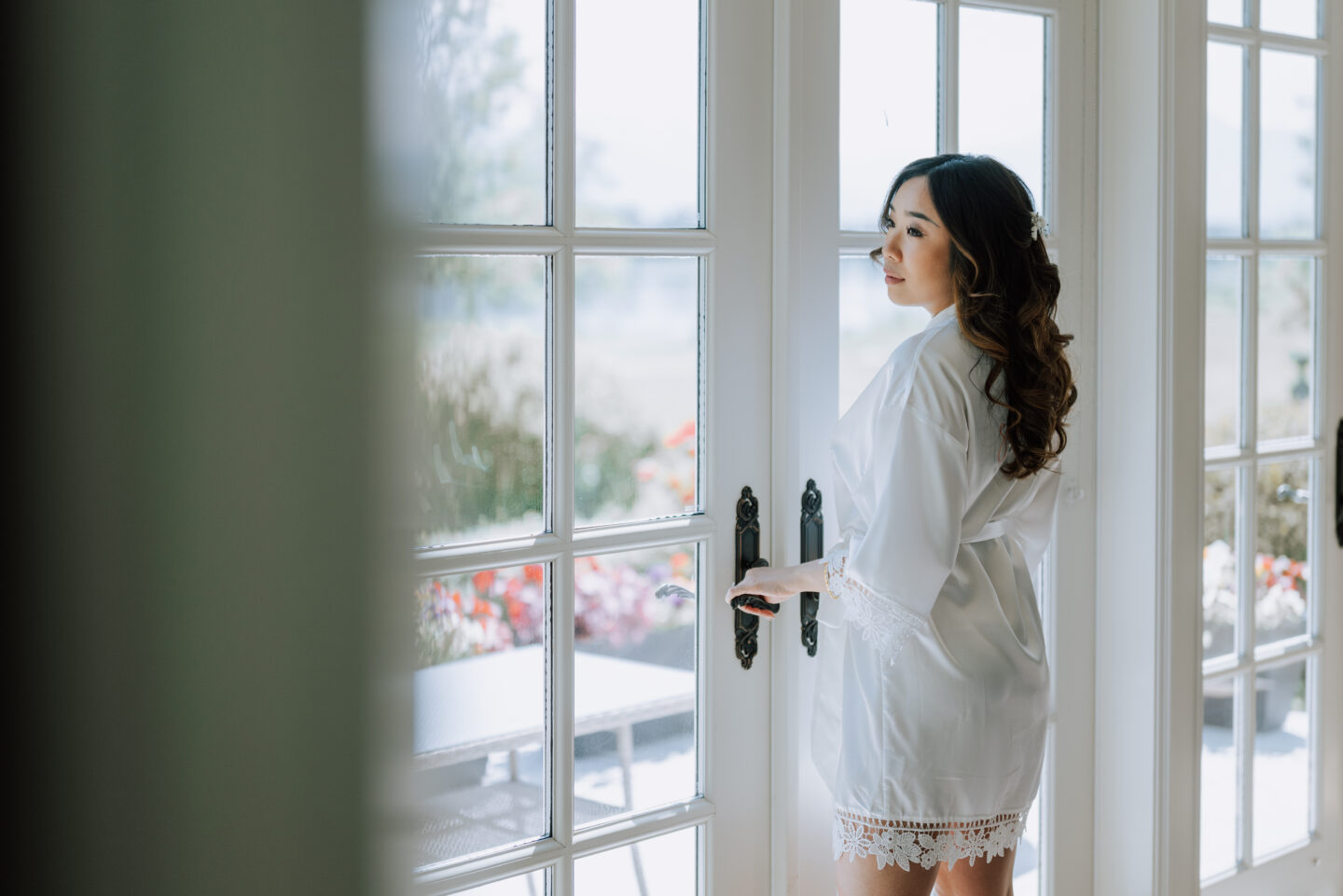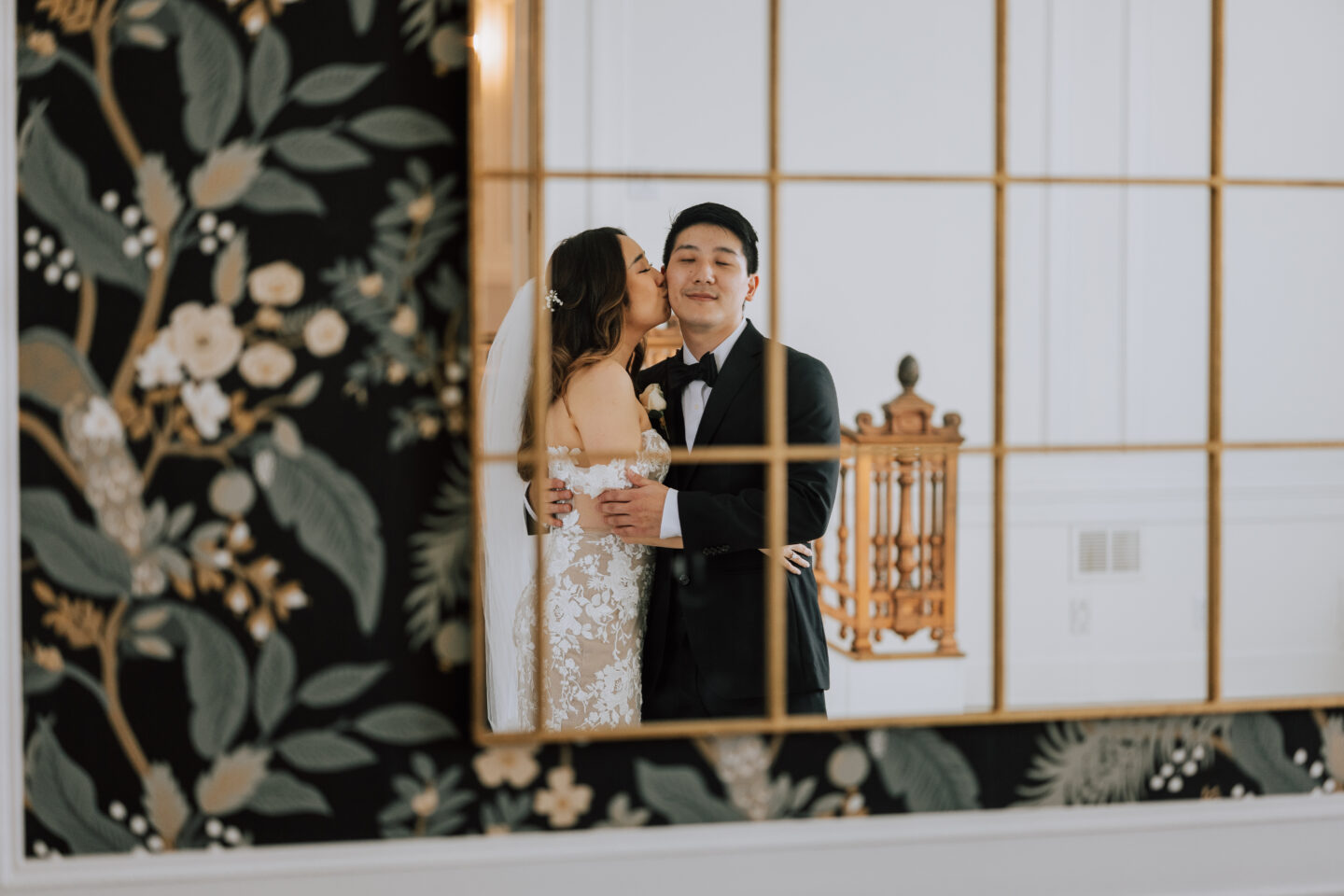 ---
The Best Team Throughout Wedding Planning: Cara & Tyler
---
Wedding planning can be so fun, but also really overwhelming, and we're so incredibly grateful for the team at Rowena's Inn! We worked with Cara and Tyler, the best team ever throughout the entire wedding process. 
We opted to plan our own wedding, and so having that hands-on approach where we could ask questions throughout was so incredibly helpful. 
From when we booked our venue, till the day-of the wedding, we had several check-in calls to ensure things were flowing smoothly, and to answer any questions that we had. 
Their warmth, professionalism, and attention to detail were so appreciated. 
I had so many questions in regards to the timeline, and how things were usually done, and the team was so helpful and prompt with responses even though they were in such a busy wedding season. We never felt left in the dark at any time through the wedding planning process. 
Not to mention that they knew many of our vendors so well as they've worked with them countless times. This alleviated so much stress because the vendors were already familiar with the venue, and vice versa.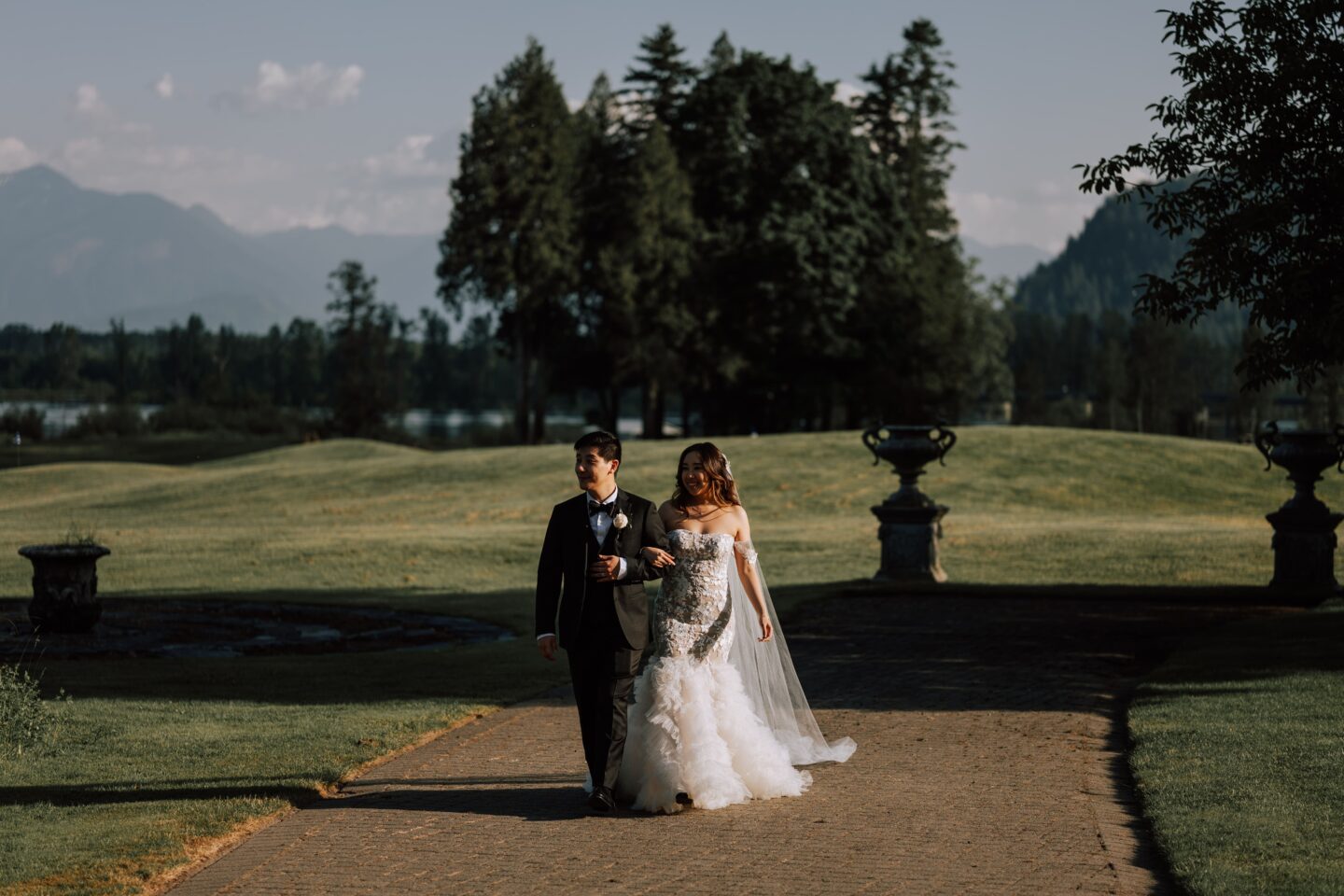 Rehearsal Dinner and Walkthrough: The rehearsal dinner was also the best time, and honestly was so important to set the precedence for the wedding itself. The team ensured everything was in place for the big day, and we had a walkthrough of the ceremony and reception spaces. 
Fast forward to the day-of, Cara and Tyler were the best team at getting everything to run smoothly, and to ensure we had a great time! 
---
Day-of Experience: Where Time Stands Still
---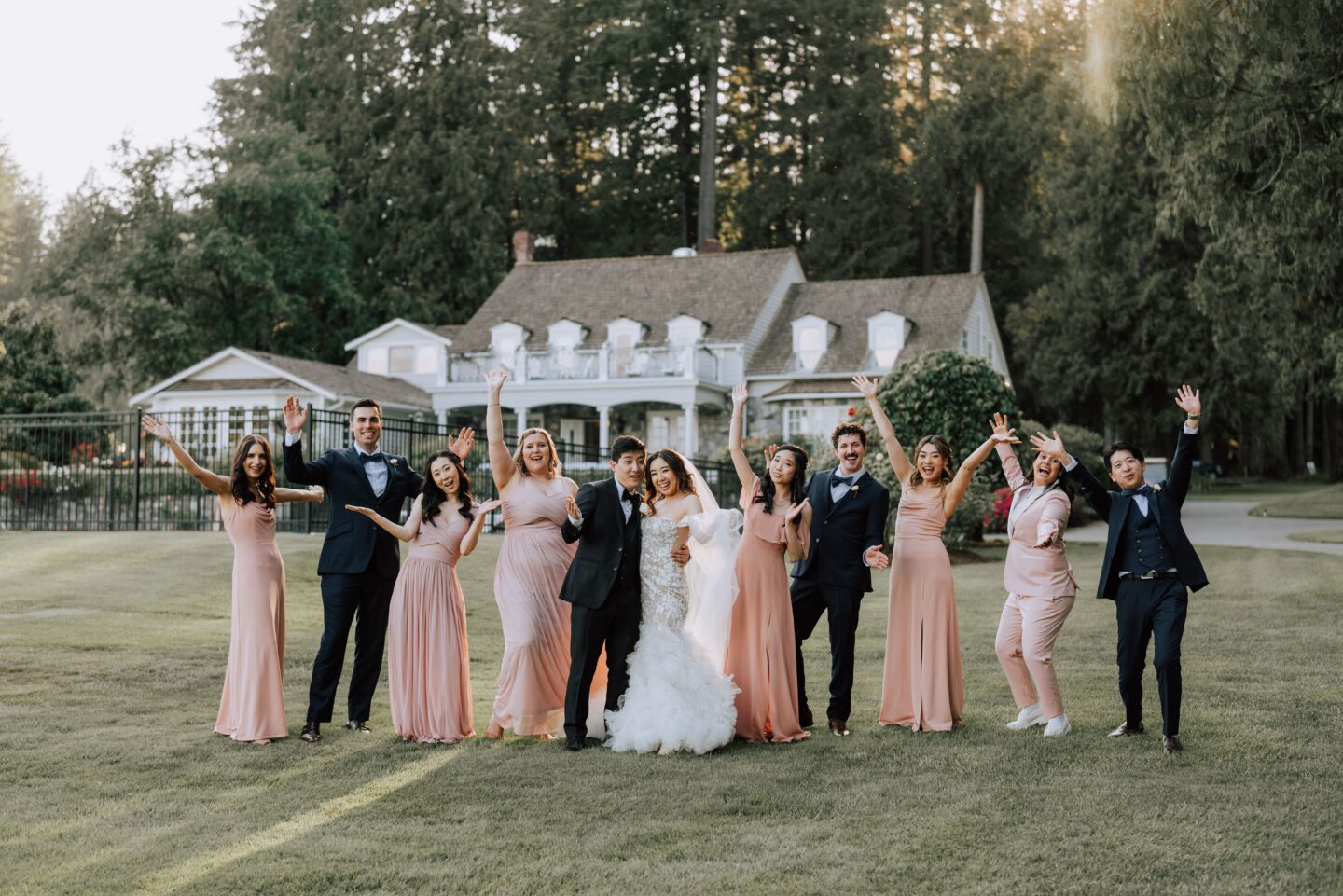 All I can say here is that we were so meticulous with planning, and that really helped to ensure that the actual day was stress free. I barely did anything haha which was AMAZING. 
We rolled in around 9 am, and got ready to music, and had the most amazing time.
My bridal party was the most stunning, dependable friends, and they really added to the whole experience—couldn't have done it without them.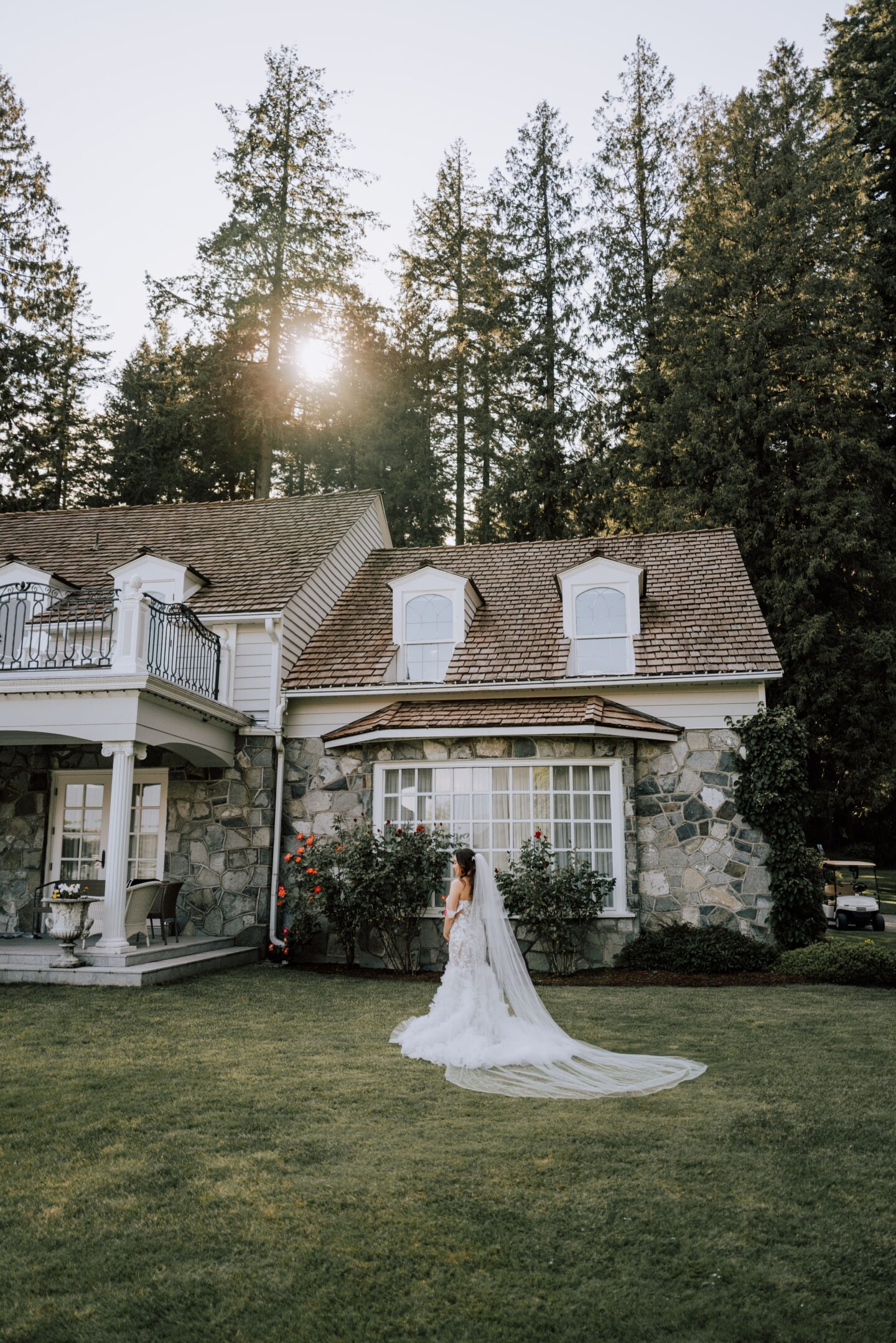 The team at Rowena's Inn checked in on us throughout, and ensured that all items in our schedule flowed smoothly. Again, I barely remember doing anything besides smile in photos. 
It was also the most beautiful day, it wasn't too hot, and not too cold. We could hear the birds from inside the bridal suite, Elbert and his groomsmen went for a run around the resort, we had lunch, and everything came together perfectly. 
---
Dinner, Late-Night Snacks, Dancing: The Ultimate Celebration
---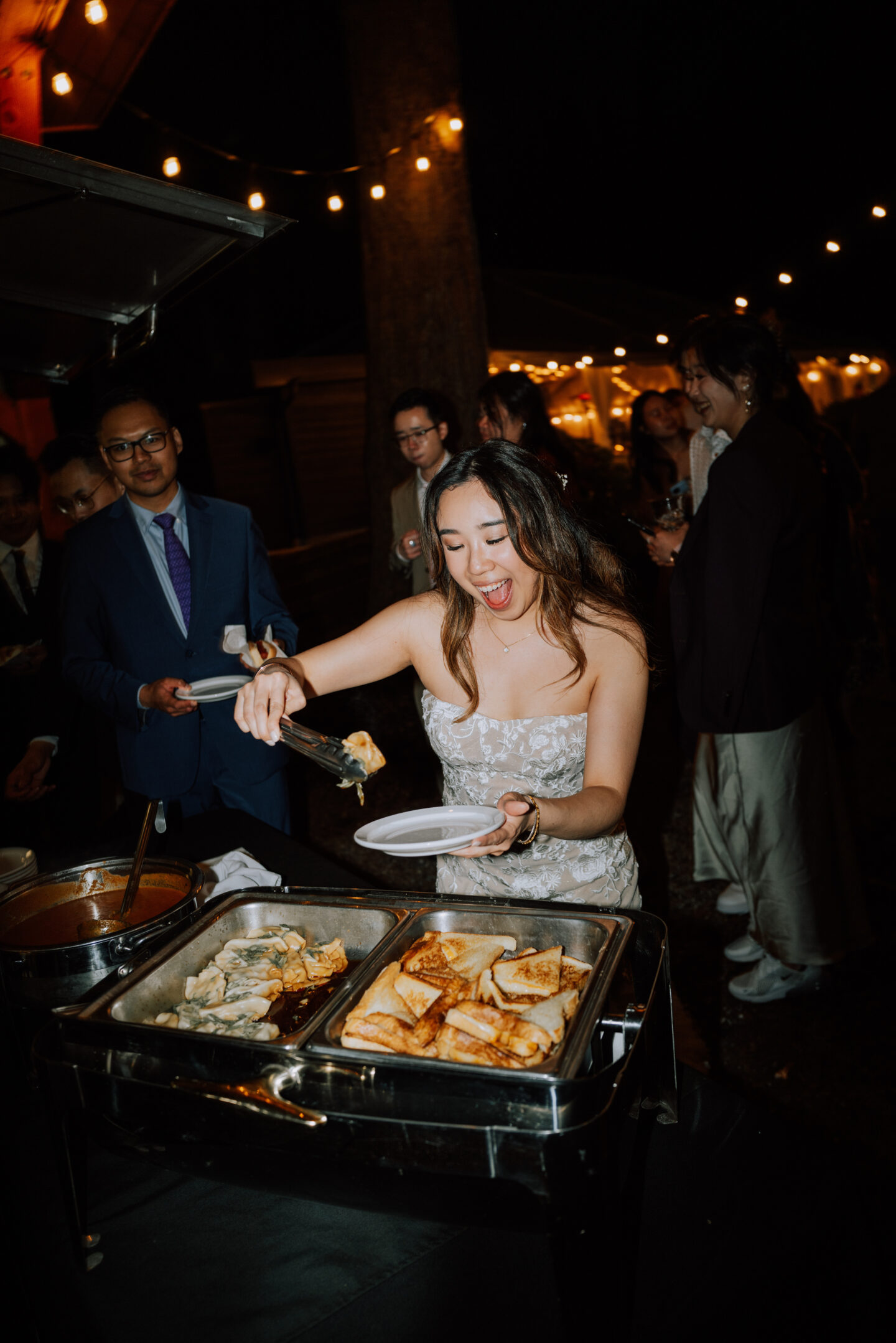 One of our non-negotiable was food! I love to eat, and it's just such a huge part of me that I told Elbert that we needed to prioritize the food we served. People need to be fed, and fed well! 
Rowena's Inn has a fantastic restaurant on property: River's Edge Clubhouse, and it's SO good. Every time we've visited, we had just the best meal and cocktails. Because of this, we already knew the quality of flavours would be great. Mind you, it's a different chef for weddings, but when there's quality, there's quality. 
It did not disappoint! The buffet was delicious and we had late night snacks which was SUCH A HIT! Think tomato soup, grilled cheese, hot dogs- so good! 
---
Wedding Vendors: Bringing the Magic
---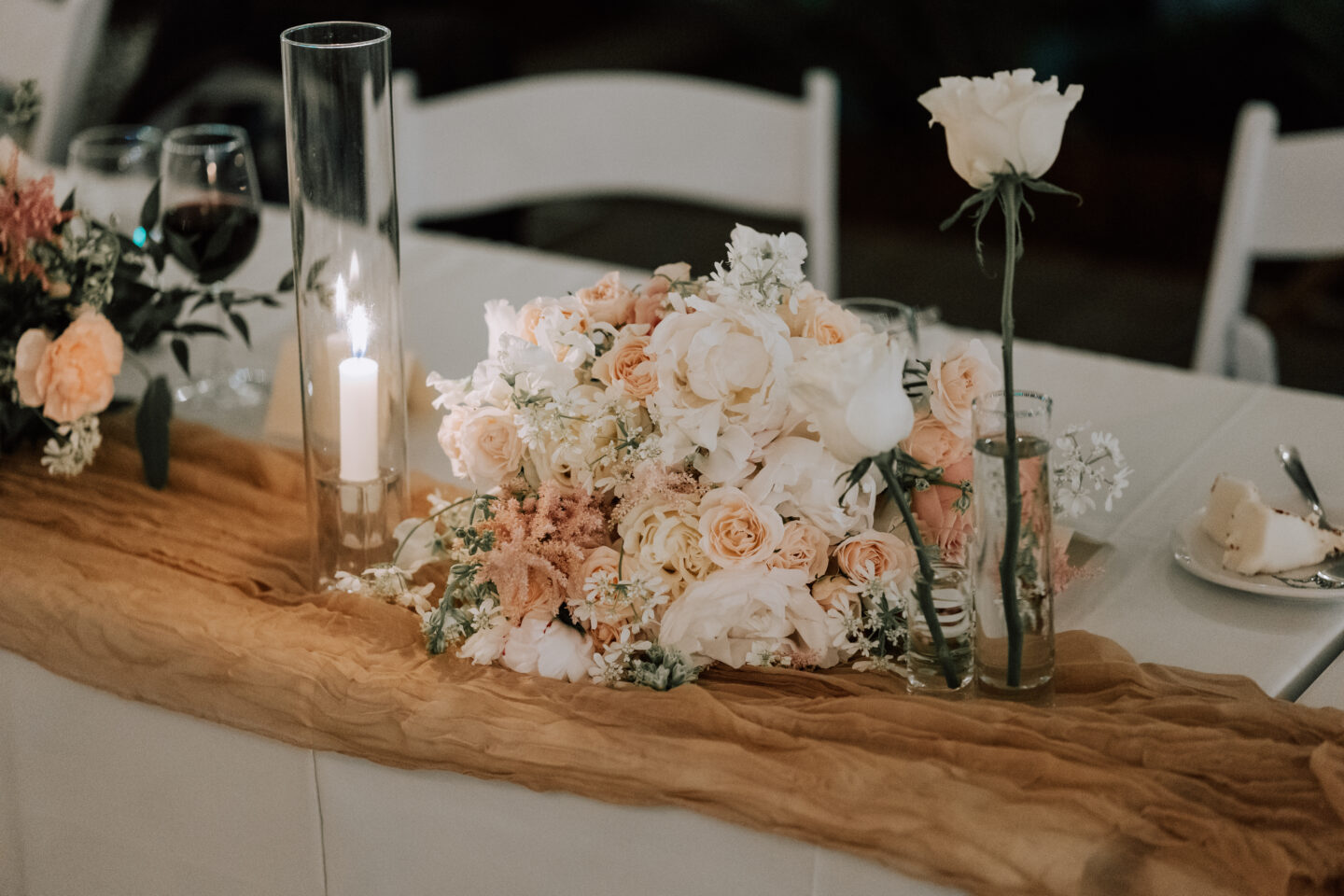 We want to say the biggest thank you to all our amazing vendors, because realistically, your vendors basically make or break your wedding. All our wedding vendors had the kindest energy, and the most talented team! 
Decor: Shyla and Valley Weddings (So communicative, and accommodating)
Floral: Lisa Glover Floral (THE sweetest human alive)
Dress: OUMA (The QUEEN of wedding gowns) 
Hair: Montana's Bridal Hair (So communicative, kind and talented)
DJ: DJ Lucas Pardy (Music is key, and nobody really stopped dancing because of him)
Photographer: IAMJOHNYOO (A great friend, and the most talented photographer I've had the pleasure of working with) 
Videographer: Luke from One Stylish Wedding (amazing energy and work) 
Our wedding day at Rowena's Inn on the River was a dream come true – a harmonious blend of nature's beauty, modern comforts, and the warmth of love. I can't say enough thank yous to our beautiful venue and team! My DMs are always open in case you have wedding planning questions!